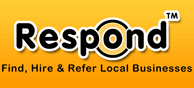 Catering >> Parker, CO >> HoneyBaked Ham Co.
Share

Tweet

Tweet
Email

Bookmark





HoneyBaked Ham Co.
8714 E. Mad River Road
Parker, CO 80134
Business Description
From business meetings to seasonal parties, HoneyBaked products can make your planning easy and delicious. HoneyBaked Ham's catering is sure to elevate your next event! With 8 locations in Denver, we're just around the corner from you. Let us cater to you for your next catering event need.
General Information


Request More Information