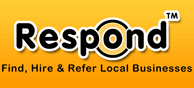 Marketing & Sales >> Houston, TX >> Dms Advertising
Share

Tweet

Tweet
Email

Bookmark





Dms Advertising
17000 El Camino Real, Ste 105-A
Houston, TX 77058

"The small business solution to big business advertising"

Business Description
Full service ad agency. Specializing in graphic design, direct mail, web design/developement and hosting, consulting, and interactive media.There is no job too big or small. From print advertisements to marketing collateral to logos, DMS has the service capabilities you are looking for.
General Information

Name:
michael rios
Fax:
281-4618940

Request More Information