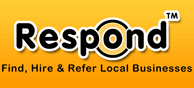 Marketing & Sales >> Denver, CO >> HowerComm Communications LLC
Share

Tweet

Tweet
Email

Bookmark





HowerComm Communications LLC
3100 S. Sheridan Blvd. #c-181
Denver, CO 80227

Creativity. Value. Expression.

Business Description
HowerComm's customers are pleasantly surprised with our amazing value and production quality. We have package deals to get businesses on TV starting at $1500! Choose from a wide array of video products (actors, jib cameras, aerial videography, and many more), or from our other advertising services for print, radio, and Internet.
General Information


Request More Information