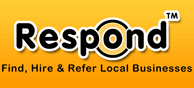 Disc Jockey >> Queens, NY >> DJs + Lighting - Seward Park Tech
Share

Tweet

Tweet
Email

Bookmark





DJs + Lighting - Seward Park Tech
69th Ave
Queens, NY 11385
Customers Rated

Business Description
Add a luxurious touch to your Wedding Reception without
breaking your budget. Seeing is believing: Visit our
Gallery Page for photos and videos of our most recent
work.We are home to New York's most sought after DJs who
work closely with you to completely customize to your
musical vision for your guests to enjoy. Our Lighting
experts will provide feedback and suggestion to transform
your venue into a personalized expression of love.
Insurance/Bonding Information
General Information



Request More Information